Larry Aderman – Owner/Managing Partner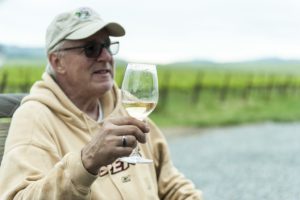 As a sales and marketing executive in the electronics production arena, Larry was drawn to wine early in a career that allowed travel from the East Coast to Silicon Valley. As a result of these frequent business trips to great wine regions and a marriage to a wine connoisseur (his wife Pamela), jumping head-first into the wine industry only made sense.
In 2003 after long weekends wine tasting in the Sierra Foothills, Larry and Pamela decided to purchase a second home in Calaveras County. This purchase led to volunteering in a favorite winery in Murphys and subsequently a purchased share in a new vineyard…not yet a winery called Frog's Tooth. Larry was given the name "The Enabler" as he submitted funds, secured partner/investors and financing for a startup winery. We were able to in short order: build out and open a tasting room in Murphys, design and construct a winery facility (with the help of his sons, wife, and partners), and begin to make award winning wines. We celebrated our 10th Anniversary of having a tasting room this summer of 2017.
His drive and vision have allowed Frog's Tooth to grow into the vibrant business it is now.